I travel using seishun18 kippu,
Because 1 time was left!
So I wrote my experience of 1-day trip from Tokyo!
What's the Seishun 18 Kippu all about?
The Seishun 18 Kippu is like your golden ticket to ride the JR (Japan Railways) on the cheap.
With this pass, you can hop on and off any JR line,
making it a total game-changer for long-distance trips.
It's super affordable, giving you 5 days of unlimited travel vibes. I
t's a major hit among students and young peeps,
especially during those long summer and winter breaks.
Loads of travelers use this pass to explore all the cool spots in Japan. With the Seishun 18 Kippu,
you can fully dive into Japan's stunning views and rich culture.
So, ready for an adventure? 🚆🌸🗻
More information 👇

The easiest way to get seishun 18 kippu. How to purchase by ticket machine at the station?

  Do you know Seishun 18kippu? It is the cheapest way to go around in Japan. If you want to see the local area and have a lot of time to travel, I recommend you to get it! Also, you don't need to wait to buy it in line at Midori no Madoguchi. Because You can get by a machine in the station! So I show you how to use and get it! Recap on the Youth 18 Ticket Usage and sale  term If you want latest information, click here Season 2023 Usage Period Sale Period Spring Mar 1 ...

続きを見る
Getting to Hitachi Station from Tokyo & Exploring Yurakunosato

This summer, on one of those scorching hot days,
I decided to embark on a journey to Hitachi City in Ibaraki Prefecture using the Seishun 18 Kippu.
The train's cool interior provided a sweet escape from the summer heat.
And the longer travel time?
Totally worth it for the main attraction: Yurakunosato, a bathhouse with views of the Pacific Ocean.
Plus, I was totally looking forward to some beer and gyoza in the evening.
My adventure began at Shinagawa Station in the morning.
From there, I hopped on the Ueno-Tokyo Line, transferred to the Joban Line, and made my way to Hitachi City.
Along the way, there were little adventures like switching trains at Mito Station and getting my Seishun 18 Kippu checked at Hitachi-Taga Station.
Upon arriving at Yurakunosato, I was treated to a bath with a mesmerizing view of the Pacific Ocean. The open-air bath, caressed by a gentle breeze, was simply divine. After a relaxing soak, I chilled at the in-house restaurant and lounging areas, making the most of my time there.
Start from Tokyo to Mito
I went to Mito Statino by Tokyo.Ueno line
Mitostation is one of the biggest station in Ibaraki.
Even you don't go out of the station, you can see many shop there.
There are Nihonshu shop (Japanese alcohol).
You can taste 3 types of nishonshu with appetizers by paying 1000 yen.
Ofcorse, You go outside and see around there if you start travel in the morning because I think you have plenty of time!
Hitachi Station :One of the most beautiful Station
The destination is Hitachi station.
I was able to go to the place I had always wanted to go.
I had seen it on Instagram many times!
The entire wall is made of glass, offering a stunning view of the sea from inside the building.
Hitachi Station boasts a station building that has won numerous awards, including the only international design competition in railway-related fields, the "Brunel Award".
Hitachi Station is renowned for its stunning design and panoramic views of the Pacific Ocean.
This station has garnered numerous accolades, including the "Brunel Award", the only international design competition in railway-related fields.
The architectural design of the station is the brainchild of the renowned architect Kazuyo Sejima,
who hails from Hitachi City. Thanks to her design,
the picturesque architecture harmoniously blends with the azure hues of the Pacific Ocean, making every angle photo-worthy.
Inside the station building, the occasional sound of a piano resonates, captivating the hearts of visitors. Additionally, the name "Hitachi" is believed to have originated from Tokugawa Mitsukuni, famously known as Mito Komon, who once remarked, "Where the sun rises, the best in my territory".
Adjacent to the station is the café "Sea Breeze Café",
from which you can have an unobstructed view of the Pacific Ocean.
* you can see the cafe in this youtube
The café is encased in glass, allowing patrons to dine while soaking in the breathtaking oceanic vista.
Oncen with Nice Ocea view
I walked about 20 minutes from the station,and arrived at Yurakunosato.
This place is known for its open-air bath with a panoramic view of the Pacific Ocean,
and the moment I discovered it, I knew I had to visit on my way back!
The view from the open-air bath is breathtaking,
with an expansive seascape stretching out before you.
The beauty is such that it's hard to tell where the bath ends and the ocean begins.
However, a bit of a bummer was that the women's open-air bath had a frosted glass wall,
so I hardly to see the ocean view unless you stood up.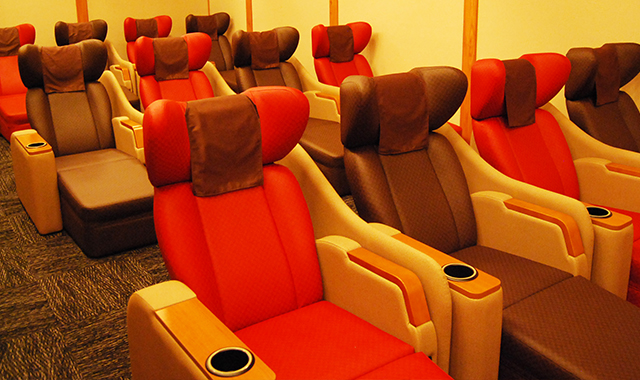 Inside the facility,
there were various relaxation spaces like reclining rooms, lounging areas, and waiting seats.
The reclining room, in particular, was a treat. You could chill while watching TV, and each sofa had a USB port, so charging your smartphone was a breeze.
As for food,I enjoyed a menu centered around Japanese cuisine at the in-house dining area. I ordered a Katsudon and some sashimi, and for dessert, I went with a parfait. Everything was delicious and perfect for warming up after a bath.
If you're interested, they also offer massages and body scrubs,
so it might be worth checking out!
Back to Tokyo
After I enjyed Oncen, I went to back to Tokyo.
The rote was same.
I bought snackes at Mito statino and ate on the train.
If you are thinking the plan for Seishun 18kippu,
This rute is one of the option for you!