Shangri-La is sometimes called "the most luxurious hotel in the world."
The Hong Kong hotel brand is present in Asia and around the world, and the one in Tokyo has been awarded five stars.
Shangri-La Hotel Tokyo, located almost right in front of Tokyo Station, is a high-end hotel in a very convenient location within the city. This hotel is known for its stunning views, luxurious interiors, and top-notch service, providing an exceptional experience where you can forget the hustle and bustle of the city.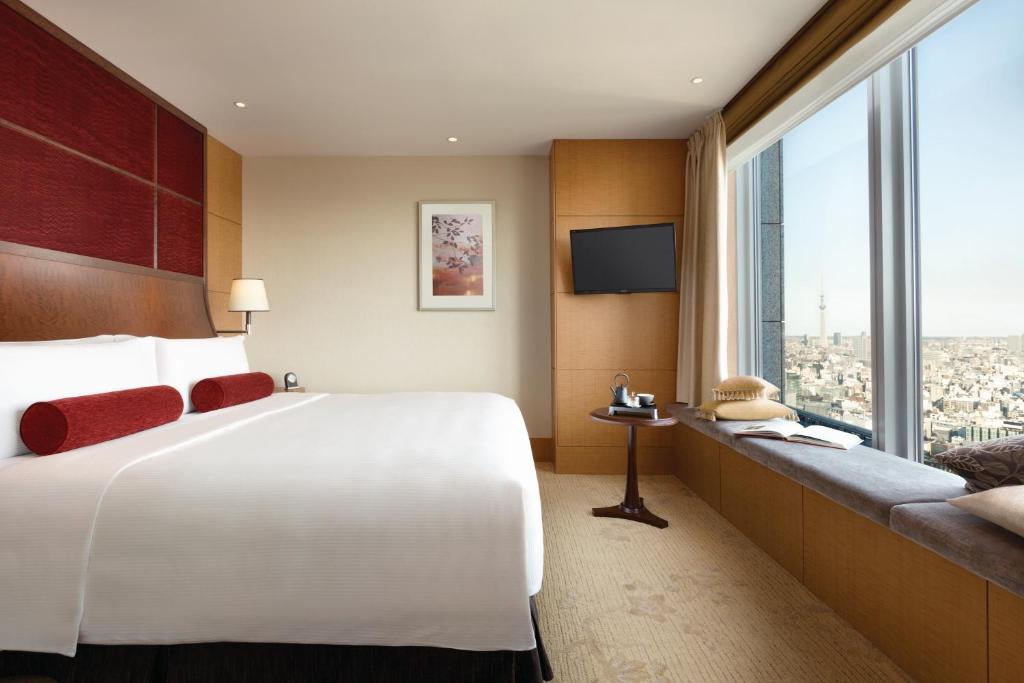 The Executive Suite at the hotel features a spacious 68 square meter area divided into a living space and a bedroom.
The living area is adorned with custom-made furniture, a large TV, and an extremely comfortable sofa.
Guests are welcomed with fruits, pajamas, and origami cranes. The king-size bed is ample enough for two people.
Noteworthy are the hotel's bathroom and vanity area, equipped with luxurious amenities. The bath is large enough for two people, and the washing area can accommodate four people simultaneously. Additionally, the suite includes both a shower nozzle and an overhead shower, designed for relaxation and convenience.
Moreover, the hotel houses the 'Piacere' restaurant, offering delicious dinners. Guests can also enjoy afternoon tea and evening cocktails at the Horizon Club, as well as breakfast through room service, experiencing first-class hospitality.
A stay at the Shangri-La Hotel Tokyo is like finding a hidden sanctuary within the city, promising an unforgettable time where you can indulge in extraordinary experiences.
Sure, here's the English translation of the section about the luxurious in-room breakfast experience at Shangri-La Hotel Tokyo:
Luxurious In-Room Breakfast Experience
The in-room breakfast at Shangri-La Hotel Tokyo is a lavish affair. As the morning sun rises, the view from the room showcases a glittering Tokyo Bay, making the breakfast experience truly special.
The in-room breakfast menu is varied, with the 'Oriental Breakfast' being a standout choice, reflecting the unique flavors of an Asia-based international hotel. This option includes congee with a choice of toppings like crab, white fish, or chicken. The gently shredded chicken is particularly noted for its delicate flavor. Accompaniments include century eggs, ginger, jellyfish, carrot pickles, small fried fish, and peanuts, each delicious enough to be enjoyed on their own, with the century eggs being surprisingly free of any strong flavors.
Additionally, the breakfast features thin-skinned, meaty, and bouncy dumplings, along with chewy noodles in a well-seasoned sauce, complemented by fluffy eggs - all contributing to a delightful morning meal.
When it comes to beverages, Shangri-La Hotel Tokyo is known for its melon juice. Choosing melon juice from the fresh juice options offers a rich and flavorful drink, although it might not meet overhyped expectations if it's not the melon season.
In summary, Shangri-La Hotel Tokyo's in-room breakfast provides a range of luxurious options, enabling guests to start their day in the comfort and privacy of their room, making it an extraordinary experience.
Exceptional Services at the Horizon Club Lounge
The Horizon Club Lounge at Shangri-La Hotel Tokyo elevates the hotel experience to a higher level of luxury and exclusivity. Check-in at the lounge offers a more private and comfortable experience compared to the regular lobby area. Guests are greeted at the dedicated lounge check-in counter and can select a welcome drink while receiving detailed information about their stay.
During the day, the lounge provides an afternoon tea service featuring a variety of sweets and snacks. This service starts at 14:30 and includes carefully prepared scones, muffins, financiers, and more. The scones, especially when spread with clotted cream, are a popular treat and leave guests wanting to return for more.
Another highlight of the Horizon Club Lounge is the evening cocktail hour. Guests can enjoy a range of complimentary alcoholic beverages, including champagne, wine, beer, whiskey, and shochu. This time in the lounge serves as an ideal way to conclude the day.
Luxurious Interior and Amenities of the Suite Rooms
The suite rooms at Shangri-La Hotel Tokyo combine sophisticated design with comfort. These spacious rooms feature a modern yet cozy interior, providing a serene atmosphere in the heart of the city. The Executive Suites, in particular, span 68 square meters and are divided into a living space and a bedroom. They are furnished with custom-made furniture, large TVs, and comfortable sofas, ensuring a pleasant stay.
The beds in the suite rooms are king-sized, offering a luxurious sleeping experience. The views from the rooms are also remarkable, overlooking Tokyo Station and Tokyo Bay. Welcoming origami cranes and pajamas are provided in the rooms, adding a touch of detailed hospitality.
The bathrooms in the suites are another highlight. They are spacious with ample-sized bathtubs, allowing for a relaxing bath time. The suite also features both a shower nozzle and an overhead shower, and the washing area is large enough to accommodate multiple people simultaneously.
Furthermore, Shangri-La Hotel Tokyo provides Molton Brown amenities, adding to the luxurious experience. These high-end amenities enhance the comfort of the stay and reflect the hotel's attention to detail.
This ametity is set of L'OCITANE.
Access & Reservation
Access to Shangri-La Hotel Tokyo
- About 1 minute walk from JR Tokyo Station's Nihonbashi Exit
- Approximately 2 minutes on foot from JR Tokyo Station's Yaesu North Exit
- By car, it's about 3 minutes from the Kofuku Bridge exit of the expressway (Parking available in the basement of the Marunouchi Trust Tower Main Building)
Tourist Attractions Within a 15-Minute Walk
1. Tokyo Station Marunouchi Building - Historic red-brick facade of Tokyo Station, known for its architectural beauty.
2. Imperial Palace- Residence of Japan's Imperial Family with vast gardens and historic buildings.
3. Nihonbashi Bridge - A historic bridge located in the center of Tokyo.
4. Mitsukoshi Nihonbashi Main Store- A luxury department store blending traditional Japanese culture with contemporary trends.
5. Yaesu Underground Mall- A large shopping area directly connected to Tokyo Station.
6. Tokyo International Forum- Known for its unique architecture, this venue houses concert halls and exhibition spaces.
7. Ginza- A shopping district lined with luxury brand stores, famous restaurants, and boutiques.
8. Nihonbashi Mitsui Tower- A modern office building offering views of Tokyo from its observation deck.
9. The National Museum of Modern Art, Tokyo (MOMAT)- Specializes in collecting and exhibiting modern Japanese art.
10. Yaesu Book Center- A large bookstore with a wide range of Japanese and English books.
Reservation
5 star hotels & other Luxury Hotels Map List in JAPAN

⭐️:5 star for Forbes Travel Guide reputaition ❤︎:4 star forForbes Travel Guide reputaition Others :It Hasn't 5star but Luxuary and reccomended hotel.(You can discover) TOKYO ❤︎ 1-1 TOKYO STATION HOTEL ❤︎ 1-2 Imperial Hotel Tokyo ❤︎ 1-3 Hotel Chinzanso Tokyo ❤︎ 1-4 Aman Tokyo ⭐️  1-5 Shangri-la Hotel Tokyo 1-6 Hotel Villa Fontaine Haned 1-7 Park Hyatt Tokyo

続きを見る