Today, I'm excited to share the allure of "Aman Tokyo," a luxury hotel that towers above the cityscape of Tokyo. More than just a place to stay, this urban oasis stands out for its exceptional experiences.
The Private Retreat and Afternoon Tea Charm at Aman Tokyo
 Soaring high above Tokyo, Aman Tokyo stands out with its serene ambiance, offering a private escape within the bustling city. The rooms are a perfect blend of elegance and functionality, providing a sanctuary that makes you forget the urban chaos. The panoramic views of Tokyo from the windows are breathtaking, offering visual delight from dawn until the glittering night.
The detail facilities are very good.
The amenities and bathrooms are very nice.
The centerpiece of the room, the bed, boasts a design that seems to float in space, surrounded by a work-friendly desk and a comfortable sofa, ideal for relaxation. The warm welcome is accentuated by thoughtful touches such as welcome sweets and toys for children, catering to every guest's needs.
What deserves special mention is the afternoon tea experience that can be enjoyed in the comfort of your room. Typically served in lounges, here you can savor it leisurely in your private space. An assortment of fruits and sweets make for a visually stunning presentation, with delightful touches like freshly added espuma to a sweet strawberry drink right before your eyes—a hospitality signature of Aman Tokyo.
Dining Experience at Arva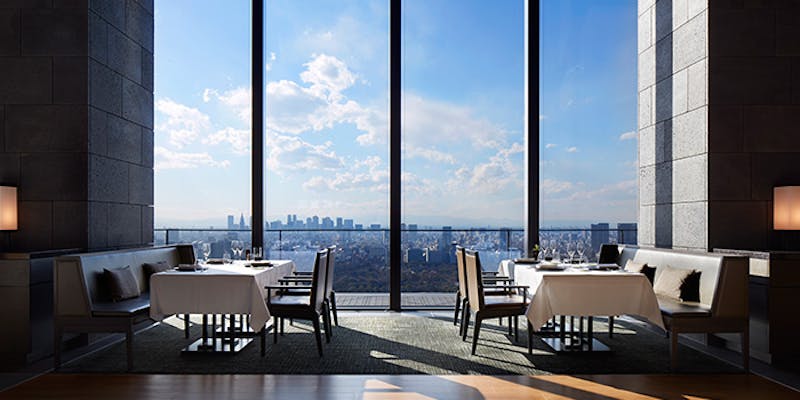 In this post, we'll zoom in on the dining experience at the hotel's distinguished restaurant, "Arva."
At "Arva," guests are treated to a modern twist on traditional Italian cuisine. The dishes, prepared with meticulously chosen fresh ingredients, are not just meals but visual and gastronomic art. The vibrant tableau on each plate is a feast for the eyes and a delight for the palate.
The level of service at Aman Tokyo is unparalleled. The staff's attention to detail makes the dining experience even more extraordinary. As you indulge in your meal, the panoramic views of Tokyo from the windows will captivate your senses. Dining at Aman Tokyo is truly a luxurious moment to be savored with all five senses.
Wouldn't you love to enjoy such an exceptional experience?
For a glimpse into this culinary journey, take a look at the dining experience at Arva.
Only restaurant use is available.
You can researve to put this button.
Unique Experiences "Aman Japan Journey"
The Aman Japan Journey is a bespoke travel experience that includes a stay at three distinct Aman locations within Japan: Aman Tokyo, Amanemu, and Aman Kyoto. Each location is chosen for its unique environment and offers an opportunity to immerse in the natural beauty, architecture, and the food and culture of the area. To partake in this journey, guests are required to stay at least two nights at each of the three properties​​.
To book this experience, reservations must be made at least 14 days before the arrival date, and cancellations are required by 3:00 PM (Japan time) 14 days prior to arrival to avoid charges. For more information on room upgrades, the 10% discount on restaurant and spa services, or to arrange pre-payment, guests should inquire at the time of booking. Certain room types may be excluded from the upgrade offer​​.
For More Ditail:
Experience
https://www.aman.com/hotels/aman-tokyo/experiences/cultural-experiences
Resarvation Detail
https://www.aman.com/hotels/aman-tokyo/exclusives/aman-japan-journey
For a more personalized and wellness-focused experience, guests can opt for the Wellness Journey, which is available at each hotel. At Aman Tokyo, guests can start with a wellness assessment based on Eastern medicine and fitness principles, followed by recommended treatments and activities at Amanemu and Aman Kyoto, designed to enhance the knowledge of one's physical and mental state and promote a restorative stay​​.
 Access&Resarvation
Access
For Hanzomon and Marunouchi Lines: Disembark at Otemachi Station. Both lines are accessible, with the Hanzomon Line on the third basement floor and the Marunouchi Line on the second basement floor. Use Exit A5, which is the closest to Aman Tokyo. After exiting, follow the signs to Aman Tokyo located within Otemachi Tower.
For the Tozai Line: If coming from central Chiba or Nakano, Tokyo, the Tozai Line is most convenient. Exit at A5 from Otemachi Station and follow the signs to Aman Tokyo.
For the Chiyoda Line: Alight at the Chiyoda Line platform at Otemachi Station and head towards Exit B1, which leads to the Tozai Line direction towards Aman Tokyo​​​​​​.
Sightseeng Spots
Taira no Masakado's Kubizuka: A historic site dedicated to a legendary Japanese samurai, offering a glimpse into Japan's past.
Otemachi Farm: A unique spot in the heart of the city where visitors can experience farm life.
TRAVEL HUB MIX: An information center for travelers that also hosts cultural exchange events.
Nikkei Hall: A modern multipurpose facility that frequently hosts concerts and events​​
Aman Tokyo is situated on floors 33 to 38 within Otemachi Tower, and the entrance to the hotel is on the first floor, marked by the 'AMAN TOKYO' sign next to the automatic doors.
Reservation site
These sites are available for resarvation.
5 star hotels & other Luxury Hotels Map List in JAPAN

⭐️:5 star for Forbes Travel Guide reputaition ❤︎:4 star forForbes Travel Guide reputaition Others :It Hasn't 5star but Luxuary and reccomended hotel.(You can discover) TOKYO ❤︎ 1-1 TOKYO STATION HOTEL ❤︎ 1-2 Imperial Hotel Tokyo ❤︎ 1-3 Hotel Chinzanso Tokyo ❤︎ 1-4 Aman Tokyo ⭐️  1-5 Shangri-la Hotel Tokyo 1-6 Hotel Villa Fontaine Haned 1-7 Park Hyatt Tokyo

続きを見る